How To Buy A Used Kayak Without Getting Taken
Disclosure: I am compensated for purchases made through some links on this site. Click for details.
Whether you are new to kayaking or adding to your fleet, buying a used kayak makes a lot of sense. A well-constructed kayak is expensive, so why not save a little and buy a gently used one?
Some people buy a kayak thinking they will use it quite often but only use it a handful of times. The kayaks that these buyers put up for sale are often like new and are the best choice when buying used.
I'm always up for saving money and I often look through Facebook Marketplace for specific kayaks I'd like to own. There are some deals to be made, but buying the right used kayak requires a little knowledge.
I've put together this little buyer's guide to guide you through the process of acquiring the right used kayak for your needs.
What Type of Kayak Is Right for You?
If you are into kayaking you are probably drawn to paddling on a river, whitewater, lake, or ocean for a leisurely paddle, fishing, racing, or more. Honestly, there are so many options and consequently, there are kayaks of different designs, materials, shapes, and weights to meet your kind of kayaking.
Deciding on your kind of kayaking is the starting point. I lean toward, leisurely river paddles to Class III rapids or open water with a mix of fishing.
What type of kayaking are you into?
I've grouped kayak types into recreational, touring, and whitewater though there are crossover kayaks that allow you to do more than one type of kayaking. Crossover kayaks are great if you like more than one of these styles of kayaking or if you are unsure where you'll spend most of your time.
My first kayak was a Dagger Axis 10.5 which is a great crossover kayak that provides excellent tracking with the use of an adjustable drop skeg yet its hull shape provides impeccable maneuverability and responsiveness on challenging river runs. I regretfully sold this kayak when I moved from Tennessee to Kentucky. It's one of the top three used boats I've been hunting for. The pictures of the Dagger Axis below were the pictures I took of my old kayak when I sold it through Facebook Marketplace.
I'll briefly define the kayak types and we will see where your interests fall.
Recreational Kayaks
Recreational kayaks are the most common kayaks on the market. They are wider, stable boats typically 12 feet or less in length. They may be a sit-in or sit-on-top hardshell kayak or inflatable. Recreational kayaks are primarily used by the casual paddler on flatwater lakes, bays, marshes, calm rivers, and depending on the kayak's capabilities whitewater up to Class II rapids.
If you are looking for a fishing kayak, they are a type of recreational kayak.
Touring Kayaks
Touring kayaks or sea kayaks are longer narrow kayaks specifically developed for paddling the open waters of lakes, bays, seas, and oceans. These are often solo or tandem sit-in hard shell kayaks that accept a spray skirt. The narrow beam and long length of these kayaks provide great tracking, high cruising speeds, and excellent cargo capacity. They lack maneuverability and turning radius.
Whitewater Kayaks
If you are into whitewater kayaking, I envy your white-knuckle adventures! Though there are some inflatable kayaks capable of Class II or higher, most whitewater kayaks are sit-in hardshell boats. The Class rating of rapid a boat is capable of handling often depends on the skill level of the kayaker.
Whitewater kayaking includes:
River running
Creeking
Slaloms
Playboating
Squirt boating
Where to Buy a used kayak
There are many great places to look for used kayaks. The key to getting exactly what you want often comes down to patience and finding the time to look. Consider the following…
Garage sales
Thrift stores
Local paddle shops
Kayak rental shops
Online outfitters like Outdoorplay
Kayak manufacturers like Sea Eagle Boats sell used kayaks
Facebook Marketplace
Facebook buy and sell communities
Facebook kayaking groups
Meetup.com kayaking groups
Craigslist and other classified
Note: If you are looking on Facebook Marketplace pre-qualify the seller by looking at the seller's ratings if they are present. Stalk over their Facebook page too to get an idea about the person and any possible kayak usage.
Preliminary Kayak Research
I have specific kayaks that I'm looking for when I search for kayaks. Do you know which kayak you want? Or are you willing to accept any number of kayaks?
Narrowing down your search can save you a lot of time. Otherwise, you will have a lot of options available and you will have to do preliminary research into each kayak being offered to determine if its features align with your paddling style and if its amenities fit your needs.
One of the best things to know when buying any kayak is that there are no beginner kayaks. There are only cheaply made kayaks or good construction.
When researching, start with the manufacturer's website. You want to pay special attention to the specifications of the kayak.
Weight capacity is one of the more important specs to consider. You and your gear should be about 100 lbs. less that the maximum weight capacity of the kayak. Overloading the kayak can affect the stability and performance of the kayak which can be dangerous in certain water conditions and if the kayak is sitting too low in the water it can take on water.
Other important features to look at are the length and weight. Will you be able to lift the kayak onto your vehicle? And will the length of the kayak be a problem when storing or transporting the kayak?
If you are interested in an inflatable kayak, length and weight are less of an issue. Inflatable kayaks fold down to fit in the truck of your car and often weigh less than a hard shell kayak.
After researching the manufacturer's website and looking at reviews on their site, proceed to kayak reviews in Google Search and on YouTube and blogs.
Pre-Qualification Questions for the Seller
Quite often you'll come across a potential kayak online. Most of the following questions should be asked whether you are shopping online or in person.
How old is the kayak?
Is the kayak still under warranty and is it transferable?
Are you the original owner?
How have you stored the kayak?
How have you maintained the kayak?
Does the kayak have any damage?
Has the kayak ever been repaired or parts replaced?
Do any accessories come with the kayak?
Why are you selling? This question may tell you more about the kayak and give you a better position for price negotiations.
Would you allow me to test-paddle the kayak?
What to Look for When Buying A Used Kayak
Before buying a used kayak, you need to inspect the kayak. The easiest way to do this is to start with the bow of the deck and work your way back, then flip it over and check out the condition of the hull from bow to stern.
The following checkpoints can help steer you toward a good kayak or away from a bad purchase. I'll cover what to look for in a sit-in kayak first and then move to the areas that differ in a sit-on-top kayak.
What to Look for in a Used Sit-In Kayak
Overview: Is there any area of the kayak that is faded? This can indicate that the kayak was stored outside for a long period of time. Sun damage can decrease the life of a kayak and make it brittle and more susceptible to cracking.
Bow Handle: If it has a nylon webbing strap with a rubber, foam, or plastic grip, check it for wear and the condition of the attachment screws. Are the attachment screws tight and secure or loose?
A worn-out handle strap shouldn't be a deal breaker. It can give you an idea of how much use the kayak has had. Strap-type carry handles with a rubber grip are an easy cheap replacement at about $20 a pair.
Some kayaks have other handle types like on the Dagger Axis pictured below or they may have a handle molded into the kayak. If it is a molded handle check on the inside of the handle for cracks. This is a stress point where cracks can form.
Bow Section of the Top Deck: Check the general condition. Is there any sign of wear?
Bow Bulkhead: Longer kayaks may have a bow bulkhead. If the kayak has bow dry storage, there will be a bulkhead made of minicell closed-cell foam. Is the marine silicon that adheres and seals the foam to the kayak in place?
If possible, you can test the seal by tilting the kayak on its end and putting some water in the cockpit area. If water leaks inside the storage area the seal is compromised.
I've had the need to replace a bulkhead seal before. Replacing the minicell closed-cell foam and sealing it with marine silicon is an easy fix.
Bow Hatch Cover: The rubber hatch cover should have a good tight seal. Is the lanyard that attaches the hatch cover to the kayak in place? Does the cover have good flex to it? They can deteriorate over time if left out in the sun.
Other types of hatches are also common. Check that the hardware that holds them in place is not loose and is in good shape. Check the seals to make sure they are soft and flexible. Stiff and cracking rubber seals will cause leaks.
Bow Deck Bungees: Does the deck bungee have good retention or is it loose and worn? Are the attachment points intact? This can also be an easy fix.
Cockpit Combing: Is there cockpit combing for attaching a spray skirt? Is it damaged in any way?
Thigh Pads: Are the thigh pads on the edge of the cockpit attached and in good shape? Again, these are easy and inexpensive replacements. Just pop out the plastic pushpins, remove the old thigh pads and attach the new ones.
Footpegs: Is the adjustable footpeg rail in good shape? Do the footpegs adjust and lock into their various positions so you can get your leg length right?
Caution Safety Sticker: Is the caution safety sticker still inside the kayak and what is the condition of the sticker? Does the sticker look new or well-worn? This will give you some insight into how often the kayak may have been used.
Seat: Is the seat material in good shape and are the adjustment straps in good shape and functional?
Seat materials are replaceable on most kayaks. Factory replacement seat material isn't always available for all brands. There may be aftermarket alternatives. If the seat material is worn or nasty, look online to ensure a replacement is available.
If you are looking at a less expensive kayak with molded seats, is the seat in good condition?
Seat Comfort: Is the seat comfortable? Comfort is very important. You will spend hours in this seat.
Stern Bulkhead: If the kayak has stern dry storage, check the condition of the minicell closed-cell foam and the silicon seal as I mentioned before with the bow bulkhead.
Stern Section of the Top Deck: Check the general condition. Is there any sign of wear?
Stern Deck Bungees: Does the deck bungee have good retention or is it loose and worn? Are the attachment points in good condition?
Stern Hatch Cover: Does the hatch cover should have a good tight seal? Is its attachment point secure? If the hatch is rubber, does it have good flex to it? rubber hatches can deteriorate from sun exposure.
Stern Handle: The stern handle is checked the same as the bow handle. If it has a nylon webbing strap, check it for wear and the condition of the attachment screws.
Hull: The condition of the hull is a make or breaking point. Some things are replaceable but not the hull. Start from the bow and proceed to the stern.
Is there any damage? Scrapes on a hull are normal wear and tear. Most scratches will be on the bow, stern, and centerline from wear dragging on a ramp, or landing on shore.
Is there a skidplate on the stern? A worn skidplate is replaceable and not a deal breaker.
You want to pay attention to deep gouges and large abrasions that could lead to a leak over time.
Also, look for dents or oil canning (denting or indentations in the hull). Misshapen hulls can affect tracking and some dents can eventually lead to cracks.
Rudder or Skeg: If the kayak has a rudder or skeg. Does it show signs of damage and is it functional? Go back to the deck to check the mechanisms for operating the rudder or skeg to make sure they are in working order.
What to Look for in a Used Sit-On-Top Kayak
I'm not going to repeat the features reviewed above that overlap with a sit-on-top kayak. The list below covers features specific to the sit-on-top models.
Scupper Holes: Stick your finger in and feel for any rough spots that might be a crack. Scupper holes are notorious for cracking and leaking.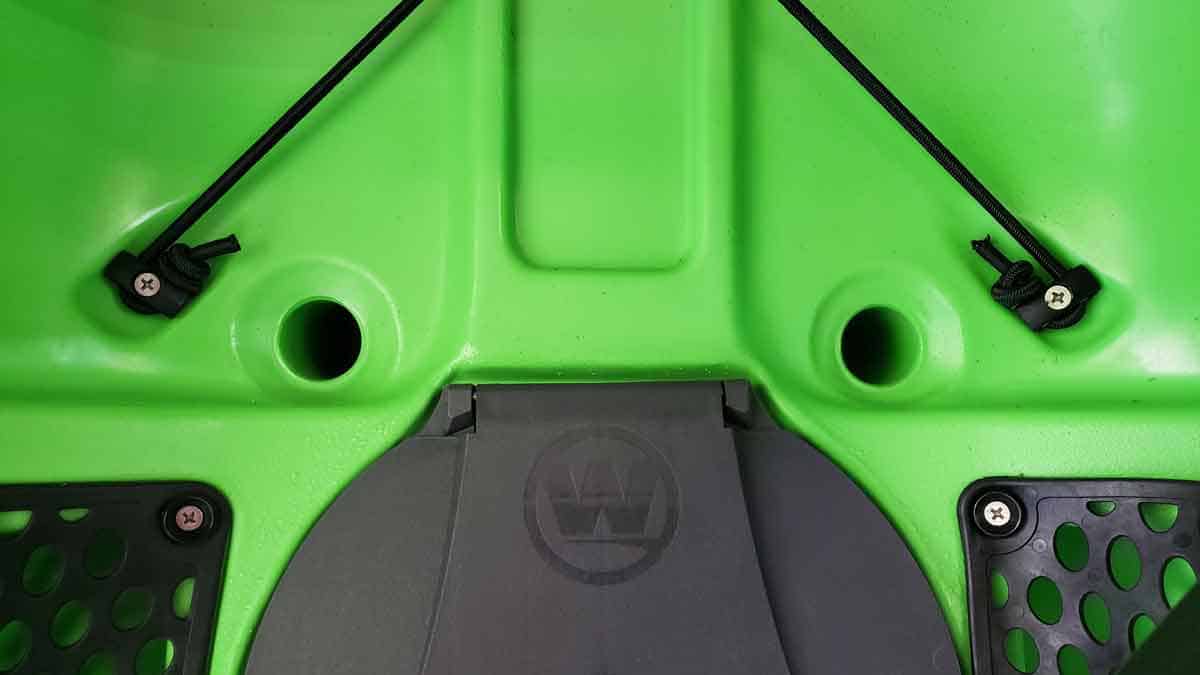 Overall Deck: There are areas of the deck that receive more pressure and can be prone to cracking. This is especially true for fishing kayaks. Pay close attention to standing areas, seating areas, and tank wells where gear or coolers might be snuggly strapped down.
Standing Area: If applicable, is the non-slip foam padding in place?
Mounts and Gear Tracks: Look for bends, gouges, or scratches.
What to Look for in a Used Inflatable Kayak
There are some differences in looking over a used inflatable kayak. Start by checking to see that all the parts of the package are there. Inflatable kayaks often have multiple pieces that must be assembled.
I recently came across an inflatable kayak on Facebook Marketplace that lacked the inflatable floor though the listing implied that all parts were present. This is where preliminary research of the kayak at the manufacturer's website will help.
Once you determine that all the parts of the inflatable kayak are present. Inflate the kayak. Is it holding air? Check the seams and valves for leaks. Applying soapy water to these areas and looking for bubbles is an easy check.
Look for signs of repair. Are there any patched spots or glue residue?
Once you have checked the integrity of the inflation chambers, check over all the other features like you would with a hard shell kayak. Are all the parts and accessories in good working order? Do they show excessive wear?
Inflatable kayaks have shorter lifespans. A 5 to 15 year lifespan is normal. The lifespan will depend on the brand, model, how often the kayak was used, how it was stored, how well it was maintained, and what abuse was it put through.
Test Paddle the Kayak
Test paddling the kayak will let you know if the kayak meets your desires in a kayak. Getting the kayak out on the water will also help you determine if there are any leaks that you may have missed on the dry look at the kayak.
Things to think over when test paddling a kayak:
Is the seat comfortable?
Are your legs comfortably positioned in the kayak?
Are the features and accessories of the kayak in good working order? A rudder or drop skeg for example.
Does the kayak track and maneuver as you would like?
Is the kayak taking on water? Leaks into dry storage areas may have to be reviewed after getting off the water.
Deal Breakers When Buying a Used Kayak
Buy a kayak that doesn't show a lot of wear. Avoid buying a used kayak that has…
Sun fading
Dents or oil canning
Cracks
Deep gouges that could lead to a leak with future wear and tear
Excessive wear
Signs of repair to the hull
How Much Does a Used Kayak Cost?
The cost of a used kayak will always vary with demand, location, age, construction quality, condition, season, and marketplace. Buying in the off-season is when demand is often its lowest.
I mentioned location because certain areas of the country have a lower inventory of used kayaks.
The marketplace where you buy your kayak plays a great role in what you pay as well. It will cost you more to buy a used kayak with a warranty from an online outfitter. Buying from an individual will likely give you your lowest price.
Used kayaks hold their value very well, especially in the last few years. Kayaking keeps increasing in popularity and inventory during the height of the COVID pandemic was low.
To get an idea of value, start by knowing the new price of the kayak in question. A kayak that shows little wear may have an asking price of around 80-90 percent of its original value. A decrease in value of 10 percent a year for the first five years would be rather common in the current market.
Features that need repair or parts that need replacing do affect value. Knowing what to look for when buying a kayak gives you the knowledge to negotiate a lower price.
Subtract the following from the price of the used kayak:
The price of parts that need replacement or repair from the asking price.
Repair costs for someone to make the repairs even if you are the one to make the repairs in question.
A value for the time it will take to make the repairs. This is the time that you could have been using the kayak.
If any kayaking accessories are included, do you want them? Subtract out a value for those you don't need. A paddle, PFD, spray skirt, clothing for cold weather paddling, and other items may or may not hold value for you.
The total after you subtract these deductions will give you an idea of a reasonable price for you to pay.
Negotiating for a Used Kayak
I used to work in sales. In learning the art of negotiation, I was taught a very valuable concept. If your initial offer doesn't insult the seller, you are not getting your best deal.
Start negotiations by nicely pointing out any issues you have with the kayak and ask what the seller is willing to take. Always make the seller state a price first, then make a low offer and work your way to a price you are happy paying.
Don't get desperate when negotiating. There are always other kayaks.
Conclusion
Renting a kayak is a great way to go when you are first getting into kayaking but when you pay around $55 for rental fees, tax, and tips. Well, the money starts adding up fast. This is when buying a kayak starts looking really good.
If you want to save money when buying a kayak, buying a used kayak may give you your best deal. You can save around 10-50% off the price of a new kayak. The price depends on demand, location, age, construction quality, condition, season, and marketplace.
Be patient when buying a specific kayak. If you are open to a variety of used kayaks your opportunities increase.