9 Best Inflatable 2-Person Kayaks In 2023
Disclosure: I am compensated for purchases made through some links on this site. Click for details.
Kayaking with others is always more fun and what better way to include your friends, partner, date, dog, child, or other family member than in a tandem kayak? You can experience the thrill of adventure and nature alongside each other while sharing a laugh or two. In this guide, I ranked and reviewed the best inflatable 2-person kayaks, along with my top 5 choices, so you can pick the best one.
Tandem inflatable kayaks make it easier than ever for 2 people to get out and explore a variety of water types. Whether you're into a leisurely paddle on a flatwater lake or enjoy the thrill of Class IV rapids. These blow-up kayaks have you covered.
Why Are Tandem Inflatable Kayaks So Special?
Safe, durable, stable, lightweight, and they easily fit in the trunk of your car… Inflatable 2-person kayaks provide affordable access to the water whether you want to paddle tandem or go solo.
If you're looking for the best way to explore the outdoors with a paddling partner, an inflatable tandem kayak is your answer.
Inflatable kayaks are increasingly popular due to their convenience and versatility. They can be easily transported from place to place and used in any type of water from lakes and rivers to coastal waters.
When shopping for the best 2-person inflatable kayak, there are some things to consider:
Where will the kayak be used?… Rivers, lakes, oceans, etc.
How will the kayak be used?… Recreation, touring, whitewater, fishing, camping, etc.
Portability
Size and Weight
Performance: stability, tracking, and speed
Weight Capacity
Comfort
Storage Space
Ease of Setup
Durability & Safety (Design, Materials, and Construction)
Warranties
Value
This blog post provides helpful two-person inflatable kayak reviews and I'll break down what to look for so you know how to pick the kayak that best fits your needs.
What Are the Best 2-Person Inflatable Kayaks?
The best inflatable 2-person kayaks offer safety, durability, superb construction, comfort, performance, versatility, and affordability.
Here are my top picks for best inflatable 2-person kayak this year:
1. Best All-Around
Sea Eagle
380x Explorer
2. Best Flatwater
Aquaglide
Chelan 155
3. Best Whitewater
AIRE
Outfitter II
4. Best Fishing
Aquaglide
Blackfoot Angler 160
5. Best Budget
Sea Eagle
330 Sport
6. Best Sit-In
AdvancedFrame
Convertible Elite
7. Best Lightweight
Aquaglide
Cirrus Ultralight 150
8. Best High Capacity
Sea Eagle
420x Explorer
9. Best for Speed
Sea Eagle
473rl RazorLite
Sea Eagle 380x Explorer
Best All-Around 2-Person Inflatable Kayak
The Sea Eagle Explorer kayaks are the company's most versatile kayak suitable for recreational use up to Class IV rapids. The only other boat in their lineup that has these ratings is their Travel Canoe.
The 12 foot 6 inch 380x Explorer is a rugged wet or dry boat designed with self-bailing floor drains that can be left open for whitewater and ocean kayaking or closed when on flat water.
Features like the self-bailing floor drains, high-pressure drop-stitch floor, high-volume 11.5″ tubes, removable skeg, and rugged 1000 Denier reinforced materials with glued quadruple overlapped seams give Sea Eagle Explorer kayaks the performance ability to take on any adventure: touring, fishing, camping, exploration, and whitewater.
Whether you want to paddle in tandem or kayak solo the Sea Eagle 380x Explorer is the Best All-Around kayak, and with Sea Eagle's optional kits, you can transform the Explorer into a sailing, rowing, or motoring kayak!
The 380x Explorer is the most versatile inflatable kayak on the market!
Best For:
Aquaglide Chelan 155
Best Inflatable Tandem Kayak for Flatwater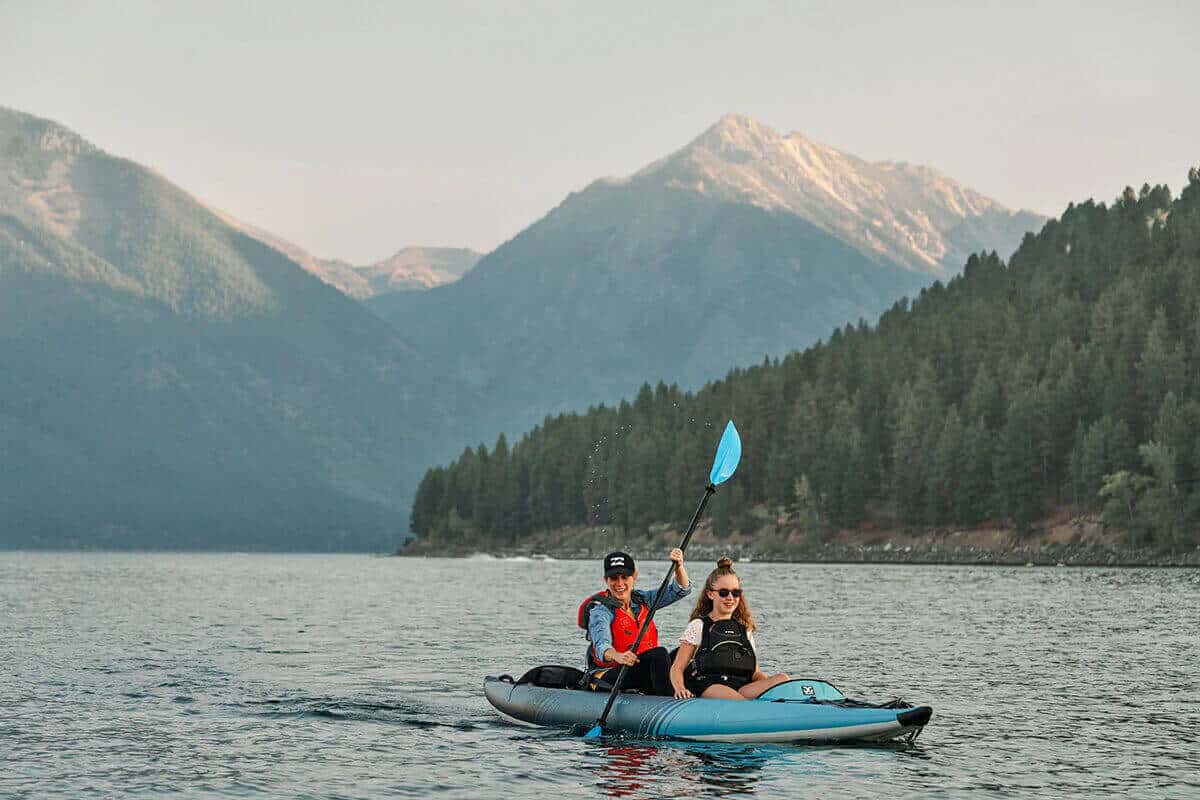 The Aquaglide Chelan 155 is a two-person, performance touring kayak that is recognized for its hull speed and paddling efficiency. It measures 15'1" in length and 36″ in width and has a weight capacity of 600 lbs.
Constructed with Duratex (a single layer of heavy-duty 1000 Denier polyester fabric coated with PVC), welded bladder seams for an airtight seal, and a high-pressure drop-stitch floor that provides added rigidity and durability while optimizing performance. This kayak is lightweight (38 lbs), stiff, and extremely durable!
It has an open cockpit design with sleek narrow tubes designed to increase glide and speed, a bow rocker for riding over waves, a lower rocker in the stern for improved tracking, heavy-duty nose cones in the bow and stern to protect from impacts, and a bow drag plate to protect the hull when landing.
Additional features include a removable tracking fin, adjustable seats with inflatable cushion, deck cargo bungee storage, D-rings, webbing tie-downs, self-bailing floor drains, Molle plates, Universal Mounts plates for accessories, molded carry handles, bow and stern cockpit splash guards, storage bag, and a 2-year warranty.
Best For:
AIRE Outfitter II
Best Inflatable 2-Person Kayak for Whitewater
The AIRE Outfitter II inflatable 2-person kayak may be the most stable tandem whitewater kayak on the market. Its large 12.5″ diameter tubes, extra wide design, and low seat positioning make this kayak stable and forgiving on the roughest of water giving great confidence to beginners and experienced kayakers alike.
The kayak measures 12′ 5″ in length and 41″ in width with a bow and stern rocker of 18.5″. It weighs 46 lbs and has a weigh capacity of 525 lbs. Sea Eagle rates the 380 and 420 Explorer at 750 lbs and 855 lbs respectively, but these weights are achieved when their bail plugs are closed. When the plugs are opened for self-bailing the load capacities are really reduced.
The Outfitter II is constructed using the AireCell System. This airtight design is made of durable radio frequency (RF) welded urethane bladders that are zippered into a heavy-duty PVC outer skin reinforced with 1100 Denier fabric for exceptional abrasion resistance and durability.
Its self-bailing floor with large mesh-covered openings quickly drains water from the kayak while keeping larger debris from entering.
Additional features include adjustable AIRE Cheetah Chair inflatable kayak seats with storage pockets on the back for great back support, 17 pairs of cargo loops, 2 Carry-Handles, and a 10-year warranty.
Best For:
Aquaglide Blackfoot Angler 160
Best 2-Person Inflatable Fishing Kayak
The Blackfoot Angler 160 solo or tandem fishing kayak with open cockpit design is made of single-layer Duratex (a single layer of heavy-duty 1000 Denier polyester fabric coated with PVC) with welded bladder seams for an airtight seal and its high-pressure drop-stitch floor provides added rigidity and durability while optimizing performance.
At 16'4" in length, 38" in width, and 11.5″ tube diameter, there's plenty of room inside the cockpit area for two people, tackle boxes, and other gear.
This 50 lbs kayak maybe be five pounds heavier than the Sea Eagle 385fta FastTrack but provides more room and a greater load capacity, 800 lbs vs 635 lbs. It, however, lacks the 2000 Denier reinforced sections found in the 385fta.
The Blackfoot Angler 160 has added protection features worth pointing out: a heavy-duty nose cone protects the bow and stern from impacts and a bow drag plate further protects the hull when landing.
For added comfort, a bow cockpit splash guard helps keep you dry and an EVA traction pad provides an anti-slip surface for standing.
When it comes to performance, the Blackfoot 160 fishing kayak (when the fin is installed) tracks well and the pronounced rockers in the bow and stern allow it to handle choppy waters with ease.
Though Aquaglide does not provide a whitewater class rating for the Blackfoot. It proves best for slow-moving Class I-II rivers.
Additional features include a removable tracking fin, an adjustable seat with inflatable cushion, non-slip EVA foam padding, fishing cooler with 4 rod holders, deck cargo bungees, D-rings, webbing tie-downs, self-bailing floor drains, Molle plates, Universal Mounts plates for accessories, molded carry handles, cockpit splash guards, storage backpack, repair kit, and a 2-year warranty.
Unfortunately, it doesn't include a pump or paddle.
Best For:
Sea Eagle SE 330 Sport
Best Budget-Friendly Inflatable 2-Person Kayak
The Sea Eagle SE330 Sport began in 1968. That's a long time! This kayak is the most durable, well-performing inflatable kayak for the money.
The efficient hull shape of the Sport is made from lightweight, durable 33 mil Polykrylar (K80 PVC) that is rugged enough to take on anything from flatwater lakes to Class III whitewater. The heavy-duty PVC provides protection against punctures while the high-frequency welded seams ensure long-lasting durability even after years of use.
This well-performing kayak seats one or two paddlers and offers great fun for both beginners and experienced paddlers alike.
You might consider paying a slight bit more for the SE 370 Sport if you are taller.
The Sport kayak comes in two models:
Best For:
AdvancedFrame Convertible Elite
Best Sit-In Inflatable Tandem Kayak
The AdvancedFrame Convertible Elite is a one or two-person, performance touring kayak that can be converted from an open cockpit to a closed cockpit in seconds by zipping in the optional Conversion Deck for solo or tandem.
The Convertible Elite is a hybrid kayak. It combines an aluminum rib-frame in the bow and stern for performance benefits that rival a hard-shell kayak with the convenience of an inflatable kayak with a drop-stitch floor for additional rigidity, strength, and performance.
It weighs 52 lbs and measures 15'in length and 32″ in width with a weight capacity of 550 lbs.
It is constructed with 3 layers of material for extreme puncture resistance and features a 1000 Denier polyester diamond rip-stop fabric upper deck cover and a heavy-duty PVC tarpaulin hull material with electronically welded seams along with reinforced bow and stern seams. This along with a high-pressure drop-stitch floor and aluminum rib-frames provide performance and safety.
Additional features include a removable tracking fin, high support, adjustable padded seats, deck cargo bungee storage, D-rings, molded carry handles, paddle holders, storage bag with removable shoulder straps, and a 1-year warranty.
Best For:
Aquaglide Cirrus Ultralight 150
Best Lightweight Tandem Kayak
At only 18 pounds, the Aquaglide Cirrus Ultralight 150 lives up to its name. This two-person touring kayak is lightweight while still offering speed and performance.
With the use of TPU/ Nylon construction and a TPU drop-stitch floor, Aquaglide has designed a minimal weigh kayak without sacrificing performance. The weight is saved by using double-coated 0.13mm TPU 70 denier nylon fabric over the heavier 1000 denier fabric coated with PVC used in many of its other kayaks. While the difference in the strength of denier material may seem huge, TPU offers a higher abrasion resistance over PVC allowing for less construction material and a huge savings in weight.
It measures 14'9" in length, 34.5″ in width, 9.5″ tube diameter, and has a weight capacity of 600 lbs.
Additional features include a removable tracking fin, adjustable inflatable seats, deck cargo bungee storage, D-rings, adjustable footrests, stern cockpit drain, Molle plates, molded carry handles, storage bag, and a 2-year warranty.
Best For:
Sea Eagle 420x Explorer
Best High Capacity 2-Person Inflatable Kayak
The Sea Eagle 420x Explorer is a longer version of the 380x Explorer. It's a kayak that can do it all and has the capacity to seat up to three people with plenty of extra room.
Best For:
Sea Eagle 473rl RazorLite
Best Inflatable 2-Person Kayak for Speed
If speed is what you're after, then the Sea Eagle 473rl RazorLite inflatable kayak may be the right tandem for you! The high-pressure, all-drop-stitch construction brings it closer to the rigidity of a hard shell kayak than any preceding kayak. That's right; its air chambers are all drop-stitch! No bulky side tubes!
The RazorLite's narrow design (25″ at the waterline) and double concave hull help reduce drag and cleanly cut through waves thanks to its sharp, tapered, hard-nose bow and stern and low profile so you can paddle faster and farther with less effort.
An additional feature of the RazorLite is its adjustable footrest. It improves balance and allows you to improve your paddling effort when powering through the water.
Sea Eagle RazorLite is perfect for recreational paddling on flatwater or slow-moving rivers at impressive speeds of up to 6 mph!
While providing superior stability when compared to traditional hardshell kayaks, it is less stable than tandem kayaks with larger side tubes. This makes it best suited for intermediate to advanced paddlers.
Best For:
Where Will You Use Your 2-Person Inflatable Kayak?
Where you plan to use your kayak is a major decision factor in choosing the right kayak.
Tandem inflatable kayaks like all kayaks are designed with different water types in mind though there is often overlap in their best use. (I will cover the best use of each kayak in my reviews.)
Lakes, rivers, and coastal waters all have different conditions that can affect the performance of your kayak.
Lakes: Lakes are typically calm bodies of water with little or no current. This makes them ideal for recreational paddling and fishing as they provide plenty of room for maneuvering without having to worry about strong currents or waves. Kayaks designed for lakes tend to be wider and more stable than those made for rivers or coastal waters, making them great options for beginners or families looking to explore together.
Rivers: Rivers offer a unique challenge due to constantly changing conditions based on water levels, river features, flow, and speed. Inflatable tandem kayaks designed specifically for river use usually feature narrower hulls that allow them to cut through faster-moving water with ease while providing excellent maneuverability.
Coastal Waters: Coastal waters can present challenging conditions such as currents and choppy waves. The best hull designs for open water are often rigid, long, wide, v-shaped hulls that sit low in the water. They have deck rigging for securing your gear and a skeg for improved tracking. This hull design allows tandem sea kayaks to cut through waves and track straight and true.
No matter where you choose to paddle, a two-person inflatable kayak can provide the perfect opportunity for an adventure on the water. With so many different types of 2-person inflatable kayaks available, it is important to understand which one will best suit your needs and goals.
Types of 2-Person Inflatable Kayaks
When it comes to inflatable kayaks, there are a variety of types available.
Depending on your needs and preferences, you can choose from sit-on-top kayaks, sit-inside kayaks, recreational kayaks, touring kayaks, sea kayaks, whitewater kayaks, fishing kayaks, camping kayaks, and even pedal or motorized models.
Let's take a closer look at each type of two-person inflatable kayak:
Sit-On-Top Tandem Inflatable Kayak
These kayaks have an open cockpit that allows easy entry and exit and plenty of storage space for gear and supplies. They also offer superior stability due to their wide hulls, making them ideal for beginner paddlers.
Sit-Inside Tandem Inflatable Kayak
These kayaks have enclosed cockpits that provide paddlers greater protection from weather and waves than sit-on-tops while still allowing access to all areas of the boat without having to leave your seat.
They tend to track better and their low profile design allows them to cut through the water more efficiently, but the enclosed cockpit can be harder to enter and exit compared to sit-on-top inflatable kayaks.
Recreational Tandem Inflatable Kayak
Inflatable recreational kayaks are great for those who want a comfortable ride without sacrificing performance in the water.
They typically feature wide hulls that provide stability while still providing decent speed. They make great boats for beginners who want to explore local waters at their own pace with little risk of tipping over.
Tandem Inflatable Touring Kayak
Touring kayaks or sea kayaks are designed for covering longer distances. To do this, they tend to be longer than recreational models and feature narrower beams which allow them to cut through the water faster while maintaining good tracking capabilities. Having narrower hulls, however, means they lack the stability of wider recreational kayaks.
These boats are perfect if you plan on taking extended trips on larger bodies of flat water like calm lakes, rivers, and coastal waters
Tandem Inflatable Whitewater Kayak
Inflatable whitewater kayaks are designed to navigate rapids and other fast-flowing river sections. They have shorter lengths than recreational river kayaks and are made from durable materials capable of handling rocks and debris along riverbeds.
Tandem Inflatable Fishing Kayak
Fishing kayaks are designed specifically with anglers in mind and come equipped with features such as rod holders, accessory mounts, and fish rulers. Fishing kayaks usually feature wider hulls with drop-stitch floors. This makes them very stable for fishermen who want to stand while fishing.
Tandem Inflatable Camping Kayak
Camping-specific tandem kayaks offer extra roomy open cockpits suitable for storing camping gear such as sleeping bags, tents, food supplies, etc. Remember to store your camping gear in dry bags so it remains dry.
Tandem Inflatable Pedal Kayak
Pedal-powered versions utilize foot pedals to power paddles or a rotor on the underside of the kayak. These are great for those who want to cover larger distances quickly.
Related Content: Why You Still Use a Paddle with a Pedal Kayak
Tandem Inflatable Motorized Kayak
Inflatable motorized kayaks use electric motors for propulsion. These primarily consist of tolling motors, propulsion systems, and eclectic motorized fins.
Related Content:
Portability of 2-Person Inflatable Kayaks
Inflatable kayaks are amazingly portable. All of these kayaks deflate and fold up to fit into a carrying bag or backpack that can easily fit into a car and minimize storage issues at home.
The weight of kayaks varies depending on the size of the kayak and the material used in its construction and design. The quality of their carry bags varies too. I'm partial to backpacks that have padded shoulder straps, an adjustable sternum strap, a hip belt, and ventilated back for flexibility and comfort when walking to your put-in. Hopefully, you won't have to walk far with your kayak but a walk of any distance should be comfortable.
Also, bags that have extra room, compartments, or bungee straps make carrying all your gear in a single bag easy.
Next, comfortable kayak carry handles are incredibly desirable. Handles at the bow and stern are common. Port and starboard carrying handles are often found as well. I like having all four handles.
While a kayak trailer is not needed a kayak cart might be. If you are kayaking alone and find your kayak and gear too heavy, consider rolling your kayak from your car to the put-in with a kayak cart. Fishing kayaks that are fully outfitted can get quite heavy.
Size and Weight of 2-Person Inflatable Kayaks
Size and weight can be important when choosing a kayak as it also affects how easy the kayak is to transport and store. A larger or heavier kayak may require more effort to move around, while a smaller or lighter one may be easier to handle.
The size and weight of your inflatable kayak will depend on:
Paddler Size – Taller and larger people often need larger boats.
Water Type – The type of water you plan to paddle can dictate the type of kayak needed and thus its size.
Construction and Materials – The type and thickness of materials can make some kayaks heavier through more durable.
Gear – If you will be carrying a lot of gear, you may need the extra room a larger kayak offers.
Larger models offer more leg room and space for gear but they can also be harder to maneuver due to their increased length and weight. Smaller tandem kayaks tend to weigh less but you might get cramped.
The size and weight of a kayak not only affects transportability it affects performance as well. Next, we'll dive into the performance aspects of 2-person inflatable kayaks.
Performance of 2-Person Inflatable Kayaks
First off, it is important to choose a kayak designed for your needs and the water type you intend to paddle. The wrong boat will not perform as desired.
The kayak's hull length, width, and shape all affect its performance: stability, tracking, speed, and maneuverability.
Stability
Stability is one of the most important features when choosing a 2-person kayak. Luckily, most inflatable kayaks are inherently more stable than hardshell kayaks due to their inflatable design, widths, and hull shapes. This makes most inflatable tandem kayaks beginner friendly.
A stable boat will keep you and your partner upright and dry in choppy waters or strong currents. Look for a wide hull that can handle rougher conditions without tipping easily. Drop-stitch floors also improve stability. (More on drop-stitch construction in a bit.)
The shape of a kayak hull plays a major role in stability. Basic hull shapes are V-shaped hull, rounded hull, flat hull, and pontoon hull. Additionally, the chine and rocker affect stability and maneuverability.
Want to learn more about kayak hull shapes? Check out my Guide to Kayak Hull Designs.
Consider what type of activities you'll be doing most often before deciding on which size would work best for you and your partner's needs.
Tracking
Tracking refers to how well the boat moves in a straight line through the water; this is especially important if you plan on paddling long distances.
The length of the boat will affect its tracking ability, so look for something at least 12 feet long if possible.
Skegs (or tracking fins) help improve tracking while rudders give greater control over direction and turning radius.
Speed
Longer, narrower, boats not only track better they are often faster, but they may not be as stable, maneuverable, or easy to turn around tight corners or obstacles in rivers and streams. Removable skegs, fins, and rudders may also improve speed by improving tracking to keep the kayak in a straight line.
This said inflatable kayaks are not as fast as hardshell models. The only inflatable kayaks that can achieve the speed of hardshell kayaks are those fully constructed with drop-stitch technology.
Full drop-stitch inflatable kayaks worth checking out are the…
Weight Capacity of 2-Person Inflatable Kayaks
Weight capacity or load capacity is another factor you should consider when selecting an inflatable tandem kayak. Kayaks have a maximum weight capacity that should not be exceeded. Exceeding a kayak's load capacity can affect all aspects of its performance as well as safety. You might capsize or even sink!
Maximum load capacity is the number of occupants along with their weight and gear. The calculation used varies between manufacturers and is influenced by the size of the kayak, the volume of air held by the main air chambers, the materials used in construction, and the type of seams used to join these materials.
The maximum weight limit of 2-person inflatable kayaks ranges from 400 – 750 lbs (181 – 340 kg). If this isn't sufficient, 3-person inflatable kayaks can often be set up with one or two seats. Three-person inflatable kayaks have a maximum weight limit of 795 – 855 lbs (361 – 388 kg).
There is a difference between a kayak's weight limit and a kayak's performance weight limit which is approximately 65% of the maximum kayak weight limit.
A kayak's performance weight limit is the maximum weight you can put in a kayak without exceeding the performance capabilities of the kayak.
For more about the weight capacities of kayaks, see the article, "Is There A Weight Limit For Kayaks?"
Comfort of 2-Person Inflatable Kayaks
Comfort in any kayak is huge, especially if you are planning long days out on the water. Comfort needs can carry depending on your style of kayaking.
Primary kayak comfort features are stability, cockpit space, and seating.
Stability: You don't want to feel like you are going to tip over or fall out of your kayak. Stability not only adds comfort but safety, especially if you will be standing to fish or using it similar to a paddleboard. Look for a kayak with drop-stitch floors if you plan to stand in your kayak.
Cockpit Space: There should be plenty of leg room, space between the side tubes for your hips, and enough room for your gear as well.
Seating: Padded, raised, and adjustable seats with tall backs offer great comfort for long days on the water. Some seats even have lumbar support. Common kayak seat types are inflatable which allow you to manage air pressure for comfort, foam padded, and aluminum frame with high and low seat positions. Each of these seat types will keep your butt dry and out of any water that might accumulate on the floor of the kayak.
Tip: Look for removable seats like those on the Bote Zeppelin Areo 12′6″ that can be used on shore for a picnic along the way or camping.
Secondary kayak comfort features are adjustable footrests and thigh straps.
Footrests: Not all inflatable kayaks have footrests. They are helpful for bracing when paddling and when navigating waves, whitewater, and strong currents.
Thigh straps: Thigh straps help you maintain control of your inflatable kayak in white water.
Storage Space in a 2-Person Inflatable Kayak
Storage space is also key. You will need room for all of your gear and accessories during long trips or extended stays on the water. Look for kayaks with plenty of deck room, deck bungee cords, storage compartments, storage under splash guards, pockets, and MOLLE attachment chains.
Consider bringing dry bags to keep gear secure, dry, and organized.
Ease of Setting Up a 2-Person Inflatable Kayak
The setup of an inflatable kayak includes inflation and the installation of any structural supports, seats, thwarts, footrests, thigh straps, removable skeg, etc.
Some models require more effort to fully setup and inflation times vary by model. Inflation usually takes under 15 minutes when using a manual pump and is much faster with an electric pump.
Inadequate air pressures in the different chambers and improper setup will diminish your kayak's performance.
Adequate instructions, clear inflation pressures, pumps with pressure gauges, and supplemental setup videos take any confusion out of the setup process.
Durability: Design, Materials, and Construction
The durability of an inflatable kayak greatly depends on its design and the materials used in the construction of its air chambers.
It's important to understand the different materials used in the construction of inflatable kayaks.
Inflatable Kayak Materials
The most common materials used in the construction of inflatable kayak air chambers are vinyl, Polyvinyl Chloride (PVC), and Polyurethane (PU) which may be covered in a ripstop fabric or reinforced with denier polyester or nylon fabric for superior abrasion resistance against rocks or other debris found in rivers or lakes.
Each of these materials contributes towards long-lasting performance resistance by offering protection against UV rays, abrasion, punctures, etc. Each material also has its own benefits and drawbacks when it comes to the strength and longevity of an inflatable kayak so choose wisely based on your specific needs and budget constraints.
Single-layer vinyl offers the least protection. It is often used in lower-quality, entry-level kayaks like the Intex Challenger.
The highest quality inflatable kayaks use 3 layers of hull material with denier-reinforced fabric or ripstop covering for extreme puncture resistance and durability.
Denier-Reinforced Fabric: Denier-reinforced fabric consists of two or three layers. It is made with an inner layer made from denier yarns woven together into a tight weave followed by an outer layer of PVC and possibly an inner third layer of PVC or PU that are heat fused together into a sheet of material.
Ripstop Fabric: Ripstop is a reinforcement technique that gives a fabric greater resistance to rips and tears by weaving stronger reinforcement materials into a crosshatch pattern at regular intervals. This pattern might be square, diamond, or hexagonal.
Ripstop polyester or nylon fabric is often used to cover inflatable kayak air chambers.
Related Content:
Additives for a Longer Service Life
The fabric materials used to make inflatable kayaks are often formulated with special additives that protect against salt water, ultraviolet (UV) rays, gasoline, oil, and other chemicals to guarantee a longer service life.
Inflatable Kayak Air Chamber Construction
High-quality inflatable kayaks are constructed of three or more primary air chambers. This does not include inflatable seats, inflatable coaming for spray skirts, or thwarts.
Multiple inflation chambers improve safety. In the unlikelihood of an air chamber failure, you will still remain afloat.
These air chambers may be either high-pressure or moderate-pressure depending on the construction, strengths, and thicknesses of the hull materials that make up the bladders.
High-pressure air chambers use a higher PSI (pounds per square inch) rating, which means they require more effort when inflating. This type of chamber is usually found on performance kayaks with drop-stitch construction as it provides a stiffer hull and better tracking in the water.
Drop stitch construction adds extra rigidity and controls the shape of the air chamber by connecting two layers of fabric together with thousands of industrial-strength threads that run between them like stitches in a quilt. This type of kayak construction has become increasingly popular as it offers greater rigidity, durability, and performance over traditional inflatable floors.
Moderate-pressure air chambers have a lower PSI rating, making them easier to inflate but not as rigid or efficient in the water as their high-pressure counterparts.
If you plan on using your kayak primarily on flatwater such as lakes or slow-moving rivers then a moderate-pressure chamber should suffice.
If you plan on taking your kayak out into rougher waters opt for a higher-pressure better performance through the turbulence. The added rigidity also provides greater stability and makes them easier to paddle since less energy is lost due to flexing during each stroke compared with traditional PVC floors which tend to bend under pressure from paddle strokes resulting in slower speeds overall.
Additionally, some models feature welded seams while others use glued or taped seams which offer varying levels of durability.
Inflatable Kayak Seam Construction
It's important to understand the different types of seams used in inflatable kayak construction: welded seams, glued seams, taped seams, and combination seams.
This article will discuss welded seams, glued seams, taped seams, and combination seams so that you can make an informed decision when selecting your next inflatable kayak.
Glued Seams
Glued seams use adhesives to bind two pieces of fabric together to create a waterproof seal.
This type of seal is the least expensive and is widely used in the inflatable boat industry to keep production costs at a minimum. Glued seams are often found on lower-priced inflatable boats.
Glued seams typically fail before the hull materials. Over time glued seams deteriorate and become brittle with exposure to UV rays and harsh elements. This leads to leaks and material separation.
High-Frequency Welded Seams
High-frequency or radio-frequency welding utilizes an electromagnetic field to melt and bond two fabrics together as electrodes on either side of the fabrics press together. Instead of heating the outer surfaces of the fabrics high-frequency welding heats the inside similar to how a microwave heats food.
High-frequency welding is an older process of bonding materials for inflatable products. It is limited and more expensive than hot air welded seams, glued seams, and taped seams.
Hot Air Welded Seams
PVC and TPU fabric materials can be bonded with hot air seals. This is done by heating the edge of the fabrics till they begin to melt. They are then firmly rolled together through a machine. This process bonds the two sheets making a permanent and powerfully reliable seal.
Taped Seams
Tapped seams are created by applying strips of PVC tape along two pieces of fabric where their edges meet. This creates an air-tight seal while also providing additional reinforcement against abrasion damage caused by contact with rocks or other hard objects.
Combination Seams
Combination seams typically consist of an inner seam created by either glue or weld followed by seam tape for maximum protection.
Inflatable Kayak Warranties and Guarantees
I recently received a series of questions from a reader about kayak seams and the longevity of certain inflatable models. It's good to check what type of warranty coverage comes with the product before making a purchase decision. This can provide peace of mind if any issues arise.
Zero to 3-year warranties against manufacturer's defects are very common though AIRE offers a 10-year warranty on their American-made boats. The best in the industry! Now that's confidence in your product! (The Chinese-made AIRE kayaks only have a 1-year warranty.)
Sea Eagle is close behind AIRE in their warranties. They have a 3-year warranty that comes standard and an extended 3-year hull warranty that can be purchased at checkout for a total of 6 years.
AIRE and Sea Eagle have the best warranties I've found.
Value
Inflatable tandem kayaks vary greatly in price depending on features such as hull design, storage capacity, features and accessories included, etc.
The price will play a big part in deciding which model best suits your needs. Budget-friendly entry-level models start at around $200-$300 USD whereas high-end models cost upwards of $1000+.
Top-quality kayaks will last you far longer and save you money in the long run. They do cost more, so weigh your options.
Some companies offer discount packages designed to save you money. Sweet deals can be found at Sea Eagle on kayaks that include paddles, air pump, carry bag, repair kit, and more.
Your best deals are always in the off-season but you run the risk of the brand running out of stock. Your best opportunity for getting the kayak of your dreams is to buy early in the season around May. Safety, comfort, and performance trump price. Don't wait too late and miss out.
There's also the option of buying a used kayak.
FAQs in Relation to Inflatable Kayak 2 Person
What are the Cons of Inflatable Kayaks?
Inflatable kayaks can be less durable than hard-shell kayaks, making them more prone to punctures and tears. Additionally, they tend to be slower in the water due to their design, as well as being affected by wind and waves more easily. Finally, inflatable kayaks may not perform as well as hardshell kayaks when paddling long distances or against strong currents due to their lack of rigidity.
Do Inflatable Kayaks Puncture Easily?
Inflatable kayaks are made of strong, durable materials and are designed to be puncture-resistant. However, they can still be punctured if exposed to sharp objects or rocks in the water. The risk of puncturing an inflatable kayak is higher than that of a hardshell kayak but with proper care and maintenance, you can minimize the chances of it happening. Be sure to inspect your boat for any damage before and after each use and keep away from sharp objects when paddling. With proper care and attention, you can enjoy your inflatable kayak for many years without worry.
Which is the Best Inflatable Kayak?
The best inflatable kayak depends on your intended use, budget, individual needs, and personal preferences. Generally speaking, the higher-quality models tend to be more durable and offer better performance than lower-end models. Some of the top brands include Sea Eagle, AIRE, NRS, STAR, Advanced Elements, and Aquaglide. All of these have their own advantages in terms of features and design that make them stand out from the rest. Ultimately, it comes down to what you need for your particular situation.
Can You Use a Two-Person Inflatable Kayak Alone?
You can use a 2-person kayak alone though the difference in weight distribution can cause problems with tracking, steering, and responsiveness. Many possible performance problems can be overcome with the use of a skeg, rudder, repositioning seats toward the middle when possible, and the placement of gear. (See the article, "Can You Use A 2-Person Kayak Alone?")
Are Two-Person Kayaks Worth It?
Two-person kayaks are definitely worth it if you plan on taking someone out with you or even just want some extra space for gear. They are also great for families who want to get out on the water together. The larger size of a tandem kayak can improve performance capabilities like tracking, stability, and speed. They also have additional features like seating options and storage space that make them ideal for longer trips.
What is a Drop-Stitch Kayak?
A drop stitch kayak is an inflatable model made from multiple layers of fabric that are connected by thousands of tiny fibers called "drop stitches" which give the boat its shape when inflated. This type of construction makes these boats incredibly rigid and durable while still being lightweight enough to transport easily when deflated.
Can Inflatable Kayaks Handle Rapids?
Inflatable kayaks can handle rapids as long as they are rated appropriately for whitewater conditions (Class I – IV). Be sure to check the manufacturer's specifications before attempting any whitewater runs in any inflatable boat and be sure you have the appropriate skill level.
Best 2-Person Inflatable Kayak for Whitewater?
For serious whitewater adventures up to Class iV rapids, look no further than the AIRE Outfitter II Inflatable Kayak. That said, the Sea Eagle 380x Explorer can handle up to Class iV rapids, it's cheaper and more versatile.
Tandem Inflatable Kayak vs Canoe?
Both inflatable canoes and kayaks provide similar experiences on calm bodies of water such as lakes or slow-moving rivers, inflatable canoes tend to have better tracking abilities due to their length while drop-stitch tandem inflatable kayaks offer greater stability making them an ideal choice for many water types.
Conclusion
In conclusion, an inflatable tandem kayak is a great way to explore the outdoors with a friend or family member.
With so many different types of 2-person inflatable kayaks available on the market, it's important to consider where you'll be using your kayak, who will be using it with you, materials, construction quality, and comfort.
We are fortunate to have so many high-quality kayaks on the market today. I hope that the reviews found here help you narrow down the multitude of options we have on the market today. There is sure to be a tandem inflatable kayak that fits your needs perfectly.
Thank you for reading! Let me know which inflatable 2-person kayak you have chosen and how it's working out for you.