12 Types Of Inflatable Boats According To The USCG
Disclosure: I am compensated for purchases made through some links on this site. Click for details.
Inflatable boats are lightweight watercraft with a rugged structure formed from inflatable air chambers made from rubberized fabrics. These boats deflate to a fraction of their size for easy transportation and storage and having no storage fees or dock fees dramatically reduces the expense of upkeep over time.
There are different categories of inflatable boats. Each has a primary purpose like kayaking, rafting, fishing, rowing, motoring, or sailing though crossover use is often an option.
For example, the Sea Eagle Explorer Kayak can handle up to Class IV whitewater yet it can be outfitted for fishing, sailing, and motoring. There's even a rowing kit for these kayaks.
The type of inflatable boat you pick will primarily depend on its intended use, the number of passengers you intend to bring, and the price. If you aren't sure where your interests may lead, a versatile boat might be your best bet.
Let's take a look a the different types of inflatable boats. You should be familiar with each before choosing your watercraft. One caveat in choosing inflatable boats is that I did not include rigid inflatable boats (RIBs) due to their rigid bottom hull and lack of portability, transportability, and storability.
Inflatable Boat Type Summary
This table will give you a quick overview of the various categories of inflatable boats.
| BOAT TYPE | PRICE RANGE | PERSON CAPACITY | PRIMARY USE |
| --- | --- | --- | --- |
| Inflatable Kayak | $300 – $2300 | 1-3 | Ocean, Lakes, Ponds, Bays, Streams, Rivers, Whitewater, Fishing, Recreational, Multi-Day Voyages |
| Inflatable Canoe | $2600 – $3550 | 1-3 | Lakes, Ponds, Bays, Streams, Rivers |
| iSUP | $100 – $3700 | 1-10 | Ocean, Lakes, Ponds, Bays, Streams, Rivers |
| Inflatable Raft | $600 – $9600 | 2-13 | Rivers |
| Packraft | $600 – $2200 | 1-2 | Rivers, Streams, Lakes, Ponds, Bays |
| Inflatable Cataraft | $1700 – $4800 | 1-4 | Rivers, Fishing, Rowing |
| Inflatable Catamaran | $2000 – $3500 | 1-4 | Inshore, Lakes, Ponds, Bays, Rivers |
| Inflatable Sport Boat | $550 – $7000 | 1-8 | Boat Tender, Rescue, Recreational, Fishing, Motoring, All-Purpose |
| Inflatable Sailboat | $5700 – $12,500 | 1-4 | Sailing, Ocean, Lakes |
| Inflatable Fishing Boat | $470 – $4500 | 1-3 | Fishing, Ocean, Lakes, Ponds, Bays, Streams, Rivers, Whitewater, Recreational, Multi-Day Voyages |
| Inflatable Fishing Float | $125 – $1000 | 1 | Fishing, Rivers, Streams, Lakes, Ponds, Bays |
| River Float Tube | $60 – $290 | 1 | Rivers, Streams, Lakes, Ponds, Bays |
Inflatable Boat Type Summary
Inflatable Kayaks
Inflatable kayaks are developed with features that make them best suited for particular uses.
First off there are two styles of inflatable kayaks: sit-in kayaks and sit-on-top kayaks.
Sit-On-Top Inflatable Kayaks
Sit-on-top inflatable kayaks like the Sea Eagle Explorer kayaks are the most common style of inflatable kayak. They look similar in style to a canoe. This style is suitable for beginner, intermediate, or advanced kayakers.
They are easy to get in and out of and great for those with kids, dogs, or long legs.
You will get wet in a sit-on-top, so these are best for warmer days and water unless you are wearing the proper clothing for kayaking in cold water.
If you'd like to learn more about Sea Eagle, I've put together the Best Sea Eagle Kayaks For 2023 with Buyer's Guide. In this guide, I ranked and reviewed their best kayaks, along with my top 5 choices, so you can pick the best one.
Sit-In Inflatable Kayaks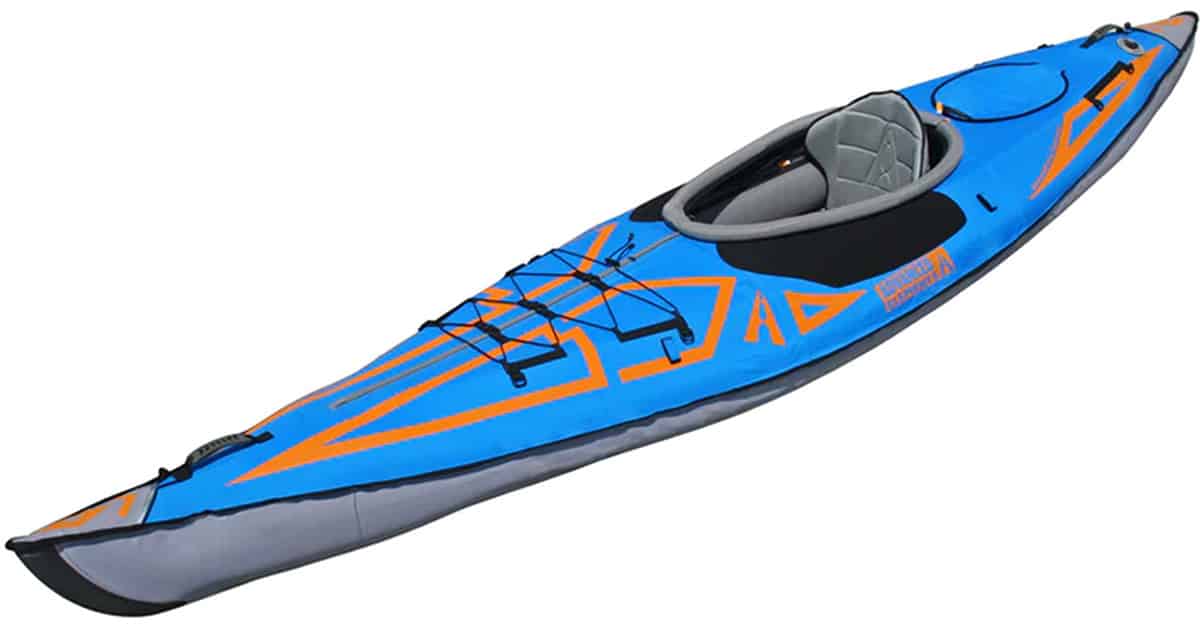 Sit-In inflatable kayaks like the Advanced Elements AdvancedFrame Expedition Elite Inflatable Kayak are suitable for intermediate or advanced kayakers. They can often be used by beginners in calm water conditions.
These kayaks offer less room for gear and for legs. Something to consider if you are very tall.
You might not get as wet in a sit-in kayak, especially if you have a model that accepts a spray skirt. This gives sit-in kayaks an advantage in cold water conditions.
Now that we know the two styles of inflatable kayaks, sit-on-top and sit-in, let's explore the different types that we have to choose from. Each kayak type is suited for specific water types and conditions.
How will you use your kayak? Knowing the water you like and the activities you want to participate in will lead you to your best choice.
Inflatable Recreational Kayaks
Inflatable recreational kayaks have the greatest demand. They are designed for the casual paddler interested in flatwater lakes, ponds, bays, rivers (Class I-II), and streams. Solo recreational kayaks are under 12 feet long and have a skeg for improved tracking. Two and 3-person kayaks can be up to 16 feet.
Inflatable Touring Kayaks
Inflatable touring kayaks are sleeker and often longer than recreational kayaks. Their design and skeg provide straighter tracking. Touring kayaks are designed for paddling farther distances more efficiently in a day on flatwater lakes, ponds, bays, rivers (Class I-II), and open coastal waters.
One, two, and three-person inflatable touring kayaks are available.
Inflatable Expedition Kayaks
Inflatable expedition kayaks are large one, two, and three-person kayaks designed with plenty of room for kayaking gear, camping gear, and supplies needed for a multiple-day trip on flatwater lakes, ponds, bays, rivers (Class I-II), and open coastal waters. There's often room for the family dog too.
If you are planning a trip on the water for 2 days or 2 weeks, take a serious look at an inflatable expedition kayak. They will give you the extra room you need.
Inflatable Crossover Kayaks
Inflatable crossover kayaks are designed to provide the best possible experience on both flatwater and whitewater. They are designed for the casual paddler interested in flatwater lakes, ponds, bays, streams, and moderate to fast-moving rivers (Class I-IV). These often have removable skegs.
When the skeg is installed for improved tracking on open water and removed for improved performance on fast-moving water.
Inflatable Fishing Kayaks
Inflatable fishing kayaks are often recreational kayaks outfitted with fishermen in mind. Features include raised seats for improved casting, rod holders, non-slip floor for standing, built-in fish ruler, anchor system, reinforced side wall chambers and floors, and a motor mount and trolling motor.
The Sea Eagle 385fta FastTrack Angler pictured above is a great example of an inflatable fishing kayak.
They are designed for use on flatwater lakes, ponds, bays, rivers (Class I-IV), and streams.
If you don't want a dedicated fishing kayak, many of these features can be added to other types of inflatable kayaks listed here.
Want to know more about the Sea Eagle 385fta FastTrack? Check out my article, Sea Eagle 385fta FastTrack Angler Inflatable Kayak Review.
Inflatable Whitewater Kayaks
Inflatable whitewater kayaks are designed for whitewater enthusiasts. Though these kayaks could be used on flatwater lakes, ponds, bays, and streams. Class III-IV rivers are where these kayaks excel. The capabilities of these kayaks are primarily determined by the skill level of the kayaker.
The Sea Eagle 380x Explorer pictured above is a great example of an inflatable whitewater kayak.
If you'd like to learn more about the design features of inflatable kayaks check out Design Features To Look For In An Inflatable Kayak.
Want to know more about the Sea Eagle 380x Explorer? Check out my article, Sea Eagle 380x Explorer Inflatable Kayak Review.
Inflatable Pedal Kayaks
Inflatable pedal kayaks have rotational pedals or push pedals that propel the boat forward. Their unique design allows hands-free kayaking with minimal effort. Pedal kayaks are often marketed as fishing and recreational kayaks, though they are also used for hunting and wildlife photography.
There are few companies offering inflatable pedal kayaks. BOTE has the LONO Aero with a true inflatable kayak design whereas the Hobie Mirage iTrek is really more of a SUP. It has no sidewalls.
For more about pedal kayaks, check out Pedal Kayak Questions and Answers.
Inflatable Canoes
There are relatively few boats exclusively marketed as inflatable canoes though many inflatable kayaks have similar features. The Sea Eagle TravelCanoe TC16 most resembles a hard shell canoe and then there is the AIRE Traveler Inflatable Canoe with its canoe-like seats and inflatable kayak hull.
For more, check out the Sea Eagle Inflatable Travel Canoe 16 Review.
Inflatable Stand-Up Paddleboards (iSUPs)
Inflatable stand-up paddleboards are also referred to as inflatable SUPs or iSUPs These highly popular boats offer users a variety of options. Different models can be used for surfing, yoga, windsurfing, touring, slow to moderately fast moving rivers, streams, lakes, ponds, bays, and open coastal waters.
There are even SUPs with seats so you can paddle like kayaking. These make great fishing SUPs. The Sea Eagle FishSUP 126 and the fishing SUPs from BOTE are well worth checking out.
When picking out an inflatable SUP, consider how it will be used. This will help determine the board's shape, length, width, thickness, weight capacity, skeg, and other features that are sport specific.
In the market for am iSUP? REI, Outdoorplay, and Backcountry are three outfitters worth looking at when comparing top-rated board brands. The links I provided here will take you directly to their SUP lineup.
Inflatable Rafts
Six of the most commonly used types of rafts are paddle rafts, oar/paddle combo rafts, gear rafts, oar rafts, mini-rafts, and fishing rafts. These inflatable boats are primarily used on whitewater rivers
Paddle Rafts
I have rafted the Nantahala River and others in North Carolina. Each time I've been with a group of friends in a paddle raft.
Paddle rafts are popular whitewater inflatable boats. These rafts often seat 4-8 people who paddle with a river guide in the back who steers and calls out commands. Paddle rafts are commonly around 14′-16′ and are great for day trips on Class II rivers up to Class V for those with skills.
Oar/Paddle Combo Rafts
Oar/Paddle Combo Rafts are similar to paddle rafts with the addition of a frame and oars at the rear of the boat for the guide. This combination has the power and acceleration of a paddle crew while providing the guide with added control and maneuverability when steering the raft on extreme rivers.
Gear Rafts
Gear rafts are used to haul an extensive amount of gear downriver on multi-day trips. They are rowed by a guide who often sits on a large cooler in the middle of the raft. While some of these rafts only haul gear others may be set up to take a few passengers in the front of the raft.
Oar Rafts
Oar rafts are set up with a center mount frame and seat for just the rower, no passengers. These lighter rafts are very agile on rocky rivers with lower water volumes.
Mini-Rafts
Mini-rafts are small rafts for two or three people often referred to as R-2 or R-3 rafts depending on the number of people in the raft. These rafts are typically under 11 feet. They are easy to set up and get on the river with a buddy and minimal gear.
Rafters with the appropriate skill levels can run Class V rivers in mini-rafts.
Fishing Rafts
Fishing rafts are built to handle the coolers, dry boxes, dry bags, and fishing gear needed for multi-day adventures. These rafts have rigid floors for standing and casting and are designed for one or two fishermen and possibly a rowing guide who sits in the middle of the boat.
Packrafts
Have you ever wanted to backpack, hike or bike to a remote lake or river access point and go boating? Packrafts have been developed to perfectly fit this desire. Sure you could pack an inflatable kayak with you but they are much heavier than a packraft.
Packrafts are built to be lightweight, durable, and packable. These individual-sized boats fold down to a fraction of their inflated size to fit in a backpack. A packraft and its gear (paddle, pump, and PFD) only weigh around 10-15 lbs. Yet, packrafts are rugged enough to handle Class IV rapids or greater.
The sport of packrafting has developed out of the ability to take this one-person inflatable raft on backpacking trips or even biking.
Common features that can be found in packracts are a spraydeck, spry skirt, thigh straps, storage compartments, and d-rings for attaching heavier gear or even a mountain bike.
To get into packrafting, you will need a packraft, pump, 4-piece paddle, and PFD. I'd also recommend a safety whistle for emergencies.
Kokopelli has some of the best packrafts and gear. They can be found at Backcountry, REI, or Amazon.
Inflatable Catarafts
Catarafts, also referred to as cat boats and cats, are similar to rafts in way of use but they differ in look and responsiveness. They are also cheaper than rafts, lighter, and easier to get on and off the water. Additionally, the lack of floor between the tubes makes them more forgiving in rough water.
Traditional catarafts have side tubes and no inflated floor. The minimal drag created by the two tubes makes lighter catarafts more responsive. Heavy catarafts, however, function quite differently. When loaded with gear, the tubes draft more water. This makes the boat more stable but far harder to turn.
Being extremely agile and stable, light catarafts make great safety boats for helping swimmers ejected from rafts.
Catarafts come in various sizes:
16′-18′ catarafts are great on big water, three or four people, and make great gear boats.
14′-15′ catarafts are great for three or four people and multi-day trips.
12′-14′ catarafts are for one to two paddlers with light overnight gear.
8′-12′ catarafts are for one to two paddlers.
Inflatable Catamarans
Inflatable catamarans have two parallel side chambers with a wide beam for stability. The side chambers reduce friction and create lift for a smooth ride. This low hydrodynamic resistance increases fuel economy by requiring less propulsion power.
Another common feature is the boat's high-pressure inflatable deck. Like this one in the Sea Eagle FastCat14. This rigid floor design adds to the boat's stability and provides a stable deck for standing
Inflatable Sport Boats
Inflatable sport boats make great all-purpose boats perfect for use as boat tenders, rescue boats, fishing boats, and for general motoring and recreational use. These 8-15 foot boats hold up to 8 people and have a 2000-pound load capacity with a shallow draft for venturing into shallow waters.
These features make inflatable sport boats a desirable boat for transporting both people and gear where larger boats can't go.
They can be outfitted oars, a sail, or with an outboard motor and are most commonly manned by one person.
In the photo above, you can see the different sizes of Sea Eagle Sport Runabouts. These sport boats range from 10'6″ to 14′ and come in packages with high-pressure, rigid inflatable drop-stitch floors or molded plastic floors, oars for rowing, outboard motor, and even a sun and rain canopy if desired.
Sea Eagle even has a 14ft long inflatable rescue boat in high-visibility orange.
Inflatable Sailboats
There are dedicated inflatable sailboats and sail kits like the Sea Eagle QuikSail Universal Kayak Sail Kits that can be added to kayaks and other inflatable boats. Tiwal and Minicat are two inflatable sailboats worth looking at. Tiwal is more of an inflatable sailing dinghy whereas Minicat is an inflatable catamaran.
Inflatable Fishing Boats
Although I have broken inflatable fishing boats out into its own section, they are rarely more than dedicated versions of other inflatable boats that have been modified for fishing. There are exceptions like the Inflatable fishing floats mentioned next.
Sea Eagle Boats has been making high-quality inflatable boats since 1968. They have been one of the industry leaders for a long time. It's why Sea Eagle inflatable fishing boats stand out the most. They have inflatable fishing skiffs, inflatable pontoon boats, frameless inflatable fishing boats, inflatable fishing kayaks, and Inflatable SUPs.
NRS is the other industry leader to look at. They offer the Slipstream Fishing Raft Packages. These fishing rafts are built to hold coolers, dry boxes, dry bags, and fishing gear for multi-day trips on the water. These rafts have non-slip rigid floors for standing and casting and different models are designed for one or two fishermen and possibly a rowing guide who sits in the middle of the boat.
Inflatable Fishing Float Tubes
Inflatable fishing float tubes are well-performing personal boats specifically designed for fishermen. These are not the lazy river float they evolved from. They feature a raised seat for improved visibility and casting, a backrest for improved comfort, and cargo storage areas.
Fishing float tubes come in a variety of shapes and sizes:
Round float tubes
V-shaped float tubes
U-shaped float tubes
V-shaped and U-shaped fishing float tubes are more stable than the traditional round float and are a safer option. They look like a crossover between a round float tube and a small, inflatable, U-shaped pontoon boat.
Inflatable fishing float tubes are propelled by the use of float tube fins, much like swimming flippers.
For more on fishing float tubes, check out the following articles:
River Float Tubes
I'm including river float tubes because the U.S. Coast Guard's Boating Safety Division has determined that a float tube is a vessel because it is "capable of being used, as a means of transportation on water."
Click on the link for more on the U.S. Coast Guard's Vessel Determinations.
I'm not including pool float tubes in this category. I don't think many people reading this article would be looking for a pool toy anyway.
Less expensive river float tubes are constructed of heavy-duty vinyl with welded seams whereas heavy-duty, river tubes are constructed of denier fabric reinforced with a raft-quality synthetic polymer for surviving encounters with rocks, limbs, and other debris on more aggressive river runs.
Check out these articles if you would like detailed information on the Best Heavy-Duty River Tubes or how river tubes differ from snow tubes.